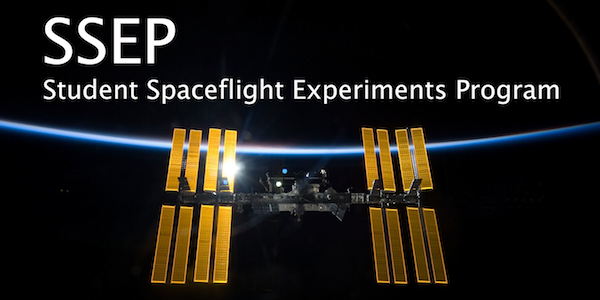 The National Center for Earth and Space Science Education, the Arthur C. Clarke Institute for Space Education, and NanoRacks announce Mission 9 to the International Space Station. This STEM education opportunity immerses grade 5-16 (pre-college and 2- and 4-year college and university) students across a community in an authentic, high visibility research experience, where student teams design and propose real microgravity experiments to fly in low Earth orbit on the International Space Station. The program nurtures ownership in learning, critical thinking, problem solving, navigation of an interdisciplinary landscape, and communication skills – all reflective of the Next Generation Science Standards, the skills needed by professional scientists and engineers, and the skills desired by 21st century employers.
Each participating community will be provided a real microgravity research mini-laboratory capable of supporting a single experiment, and all launch services to fly the experiment to the International Space Station in Spring 2016, and return is safely to Earth for student harvesting and analysis. A 9-week experiment design competition in each community, held September through November 2015, and locally engaging typically 300 students, allows student teams to design and formally propose real experiments vying for their community's reserved mini-lab on Space Station. A formal 2-step proposal review process, mirroring professional review, will determine the community's flight experiment. Content resources for teachers and students support foundational instruction on science in microgravity and experimental design. Additional programming leverages the experiment design competition to engage the community, embracing a Learning Community Model for STEM education. This includes a local art and design competition for a Mission Patch to accompany the flight experiment to Station. SSEP is therefore more suitably characterized as a community-wide STEAM experience.
TIME CRITICAL: all interested communities are asked to inquire by April 30, 2015; schools and districts need to assess interest with their staff and, if appropriate, move forward with an Implementation Plan. Communities must be aboard by August 31, 2015, for a 9-week experiment design and proposal writing phase from September 7 to November 6, 2015. The flight experiment will be selected by December 17, 2015. Launch of the Mission 9 to ISS "Endeavor" experiments payload is expected in Spring 2016.
NEXT STEP: carefully read the SSEP Home page, which provides an Executive Summary of the Program and the Mission 9 to ISS Flight Opportunity: http://ssep.ncesse.org